Symposium on Challenges in Applied Human Biometeorology
March 2 and 3, 2020 at the University of Freiburg in Freiburg, Germany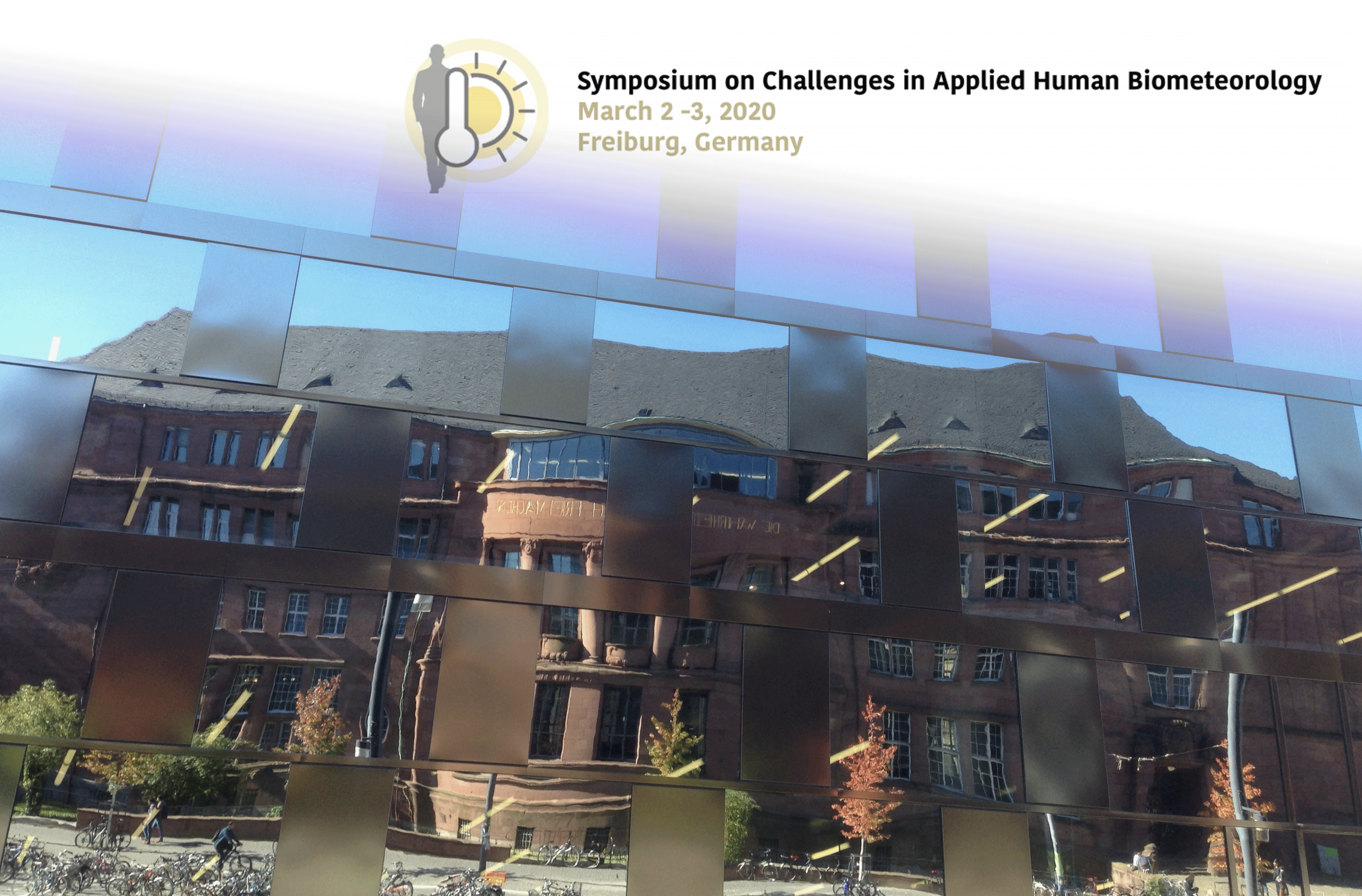 Scope
The aim of the symposium is to setup and scout new directions and possibilities for future research trajectories and applications in human biometeorology. The conference includes sessions on:
Human biometeorology in a changing global climate
Communication and warning systems in human biometeorology
Development and application of thermal indices
Human biometeorology in urban environments
Planning and human biometeorology
Crowdsourcing, big data, and new observational and modelling systems in human biometeorology
Organizers / Hosts
The Symposium is organized by the Chair for Environmental Meteorology at the University of Freiburg in collaboration with the Research Centre Human Biometeorology, German Meteorological Service, Freiburg and the Society for the Promotion of Human Biometeorological Research in Germany.
Scientific Program
The tentative scientific program is available here.
Conference fee and support
The conference fee will be €75. Participants will receive an invoice with detailed payment instructions early January 2020.
There is a limited number of competitive travel grants available for participants from less developed countries. To inquire about travel support, please contact andreas.matzarakis@meteo.uni-freiburg.de
Travel Information
Freiburg is well connected within Europe by train (see Deutsche Bahn, "Freiburg Hbf" is Freiburg's Main Station).
The nearest Airport is EuroAirport Basel-Mulhouse-Freiburg (BSL) from which busses transfer you within 1 hr to the city centre of Freiburg (e.g. FlixBus, choose "Basel EuroAirport" and "Freiburg (i. Br.)"). Other nearby Airports are Frankfurt (FRA, 2hr train ride to Freiburg with Deutsche Bahn) or Zürich in Switzerland (ZRH, 2,5 h train ride to Freiburg with SBB or Deutsche Bahn).
Accommodation
The conference will take place in the historic town of Freiburg (Löwenstraße 16, 79089 Freiburg), an area, where also most hotels are located within walking distance. For accommodation options, please visit: https://visit.freiburg.de/en. 
Alternatively, you can get in touch with the booking service directly: Booking Service Freiburg, Kerstin Schultheis, Phone: +49 (0) 761 3881 1516, E-mail: groups@fwtm.de